New season in soccer, small change in handball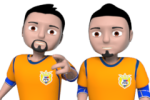 Dear friends,
another season in soccer is drawing to a close. It's time to get ready for the next one. As usual, we will be doing league regrouping in soccer to get rid of inactive teams in the bottom two league levels. The regrouping will be done in all countries except for the following ones:
Argentina, Belgium, Bosnia and Herzegovina, Bulgaria, Croatia, Europe, France, Japan, Latvia, Montenegro, Norway, Poland, Russia, Slovakia, Slovenia, Venezuela
In handball we have decided to go back to the original defensive formation set-up where centre back is displayed in a high position in a 5-1 or 3-2-1 formation. The reason why we decided to go back to this set-up are the negative reactions to the change when we put pivot in this position. This change will come into effect tomorrow. You don't have adjust your line-ups. Just make sure that when setting a line-up, your center back and pivot are in the positions which have been designated for them.
That's all, have a nice day!
Author:

vlady
-
Translator:

vlady
Share on Facebook
Share on Twitter
Share on MySpace