Choose your starting position in full version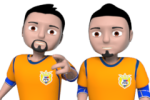 Hi friends,
we hope you are enjoying your first days as handball managers. During the last week we have been able to fix a large number of bugs. We will continue fixing the bugs during this week and hopefully next Monday we will be able to start the full version.
But before we do that, you will have the option to select where you would like to start in the full version. You can take part in the auction for league places which you can find here. The starting price for a place in the top division is 50 credits. For all the other divisions it is 20 credits. By default you can see the places with the nearest deadline. The top league places will all have deadlines on Wednesday. Second league on Thursday, third league on Friday and fourth league on Saturday, but you can already start bidding on any of these places.
Why is there an auction for league places you ask? There are two reasons:
To give you a chance to pick the league according to your taste. Whether you want to start at the top or work your way from the bottom, you have your fate in your own hands and you can reserve the place in any league you want.
To give you a chance to play in the same league with your friends. For example, if you decide to play together in league III.1, select this league from the drop-down menu. You will be able to see all 14 places in this league with their deadlines and current bids. Talk to your friends to settle who will bid for which place. For example you will bid for a place with the deadline at 17:00, your friend for the place at 17:15 and the other friend for the place at 17:30. In a lower league you should be able to get these places for a relatively small price as there won't be that much competition for them.
If you don't want to take part in the auction, you can still influence your starting position in the full version. You should be able to see a message in your handball account asking you whether you want to start in the highest possible league, lowest possible league or whether it doesn't matter to you. Remember that starting in a lower division also has its advantages. All the places which will not be sold in the auction will be filled by the rest of the managers according to their choice. The managers will be ordered according to the date and time when they created their handball team in beta. For example, if 13 out of 14 places in the top league are sold, the fourteenth place will be filled with the manager who picked to play in the highest possible league and has the earliest date and time of team creation in beta.
During the first season of the full version, teams on the same league level will have identical general sponsors. The top league teams will get 1 million per week. Second league teams will get 925,000, third league teams 850,000, etc. However, teams in the top leagues will also have to pay higher salaries to players and staff members.
Good luck!
Author:

vlady
-
Translator:

vlady
Share on Facebook
Share on Twitter
Share on MySpace