Another Chance To Succeed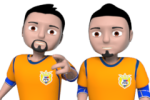 Dear friends,
did you have a good season? Did you achieve your goals? No? Well then you won't have to wait too long for another chance. Season 14 is here before you know it. If you did succeed, good for you. Now you will have to defend those positions against hungry opponents.
Before we start another season though, why don't you take a moment to follow your national team at the World Championships? Also don't forget that the sponsor offers start coming in tomorrow and your decisions may influence the future of your team.
As always, there will be league regrouping in selected countries to remove the inactive teams in the lowest two divisions. This season the league regrouping will take place in the following countries:
Belarus, Bosnia and Herzegovina, Bulgaria, Canada, Croatia, Denmark, Germany, Greece, Hungary, Iran, Italy, Norway, Other World, Poland, Russia, Slovakia, Slovenia, Sweden, Turkey, United Kingdom, USA, Venezuela
If you happen to be moved to a different league during league regrouping and you have chosen a sponsor offer with performance bonuses, there is no need to worry. You will get a chance to switch to a regular sponsor offer or change your target position for bonuses during the first 2 days of the new season.
Have a nice day!
Author:

vlady
-
Translator:

vlady
Share on Facebook
Share on Twitter
Share on MySpace