Last Edition of TopArt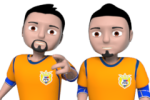 Hi folks,
we would like to inform you that this is the final month of the TopArt competition. As of January, we will remove this option from the game.
One of the reasons for this decision is that there weren't enough people submitting their pennants and pucks. The other reason was that there were certain groups of users who we using this feature to farm for credits and possibly even used scripts to vote in large volumes.
We came to the conclusion that the competition no longer serves the intended purpose.
New Soccer Season
A new season in soccer starts next Monday. As ever, there will be league regrouping in selected countries to remove inactive teams from the bottom two league levels. League regrouping will take place in the following countries:
Colombia, Croatia, Czech Republic, Europe, Hungary, Iran, Serbia, Sweden, Venezuela
If you sign a sponsorship contract with bonuses and you happen to be moved to a different league during league regrouping, please don't be alarmed. You will have the option to renegotiate your contract during the first 2 days of the new season so that you can make the right choice. Check your new opponents before you make a decision.
Good luck in the new season!
Author:

vlady
-
Translator:

vlady
Share on Facebook
Share on Twitter
Share on MySpace