Special offer reminder and other news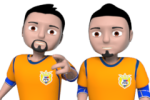 Hi friends,
we would like to remind you that you only have three days left to take advantage of our special offer to get up to 20% extra credits for the same amount of money. The offer applies for payments from €23.90 and higher and for the following payment methods: Wire transfer, Credit or debit card, PayPal, Skrill and paysafecard.
TopArt competition
The second round of TopArt competition for the best logo, puck and soccer and handball pennant is close to end so we want to remind you that if you intend to participate in the next round of competition, you should upload your graphics for December in the next few days, until the end of November. We are glad to see that you enjoy voting and participating in this competition.
New rule added
We have added one new rule to our rules of the game section, It is forbidden:
to encourage other users to do things which are in violation of the rules of the game
Turnovers
We also have one change in player stats in handball. As you probably know there were no turnovers in the player stats. Well, that is corrected now and you can now see how many turnovers a particular player had in his stats page or on any other page showing player stats.
That would be all.
Have a nice day!
Author:

dario
-
Translator:

dario
Share on Facebook
Share on Twitter
Share on MySpace