Adjusted tactical options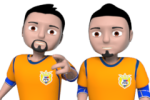 Hi friends,
there is an important change in the tactical option involving time-outs that has been implemented today. As you know, you have the option to take a time-out if your team is trailing by a certain number of goals or if you concede a series of goals that you specify. The goal difference option in second half proved to be rather useless given the fact that teams often came into second half already trailing by a bigger margin. That caused the coach to take a time-out in the first minute of the second half which, of course, didn't help much. Now the second half time-out setting will only take into consideration score from the second half. That means you can use this option more efficiently now and you don't have to worry that you will take a time-out prematurely in the second half.
We have also adjusted the conditions for optional formations that you can use in a match. Originally, the options called Trailing/Leading by 3/5/10 or more goals only applied when the goal difference exceeded the specified number. Now they are applied according to what the text actually says.
The live broadcast has been upgraded as well. If a player has been suspended for 2 minutes or awarded a red card, he is no longer displayed on the court.
We are still fine tuning the engine. We have increased the disadvantage of playing shorthanded and we plan to take a look at the tactics as well.
Have a nice weekend!
Author:

vlady
-
Translator:

vlady
Share on Facebook
Share on Twitter
Share on MySpace