New player faces and other news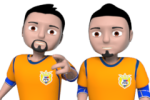 Hi friends,
some of you may have noticed that we have added some new player faces of Arabic and Indian (East) type. The new faces have been applied to the relevant countries such as Iran, Egypt, India, Malaysia and many more.

We have also improved some details on the caucasian players such as Adam's apple. Special thanks goes to ThomasHK who created all the new facial elements.
Another improvement regarding faces is that we have set different percentages of black and white players in USA, Canada, France, Netherlands and Belgium for different sports. For example in hockey and handball, the percentage of black players has been reduced while in soccer and especially basketball it has been increased in these countries.
We have also implemented a couple of suggestions from the community. The first one is the option to select playing in the bigger arena/stadium when you set criteria for automatic friendly scheduler. Until recently you had the option to select anywhere, home or away. The first option has been replaced by the new one. This way you can maximize your income from friendly games.
We have added the position filter to the Practice page in handball and basketball.
Finally, we would like to announce that the world ranking for national teams in hockey has been separated into 3 age categories so that each age category has its own ranking. These rankings are used for dividing teams into pots before the draw of the world championship groups.
Have a nice day!
Author:

vlady
-
Translator:

vlady
Share on Facebook
Share on Twitter
Share on MySpace