Changes in the draft and other news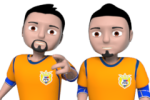 Hi friends,
as you know, the first draft in hockey is now history. We have been gathering feedback from you guys and we have decided to make several changes for the next draft.
We will change the way potential of players is calculated. It was based on average quality of the player, but we will use a system of weighted qualities in the attributes relevant for that type of player. It will be much like the way stars in the academy are calculated.
We will send team news with scouting reports of the players that you added to scouting on the previous day.
The descriptions of potentials have been changed to better represent true potential of the players.
We will give the option to non-PRO users to move any player to a desired position in the list for 1 credit.
We will also give the option to non-PRO users to order players by potential or career longevity for 10 credits.
If your PRO pack expires, your customized ranking of players will be kept.
We will cancel the extra scouting for game money. This will be free so everyone will be able to scout 1 extra player for free every day.
We will add the option to reset the ranking of players to default order.
We will hold drafts every other week from the second half of this season. The new drafts (week 2, 6, 10, 14) will have completely random picking order. However, everyone will be guaranteed a position in the first half of the first round at least twice out of these 4 drafts. This season in hockey, they will only be held in week 10 and 14. Teams that pick in the second half of the first round in week 10, will pick in the first half of the first round in week 14.
We will change draft times in most countries. It is impossible to have too many countries drafting at the same time. In order to avoid server overload, we will have to spread out the times a little bit.
In soccer, you may have noticed that we have improved the substitutions page. We have added the PRO version here, which means that you can see the attributes of players highlighted if you have set player types and the energy column was added to the list of players.
As of next season in handball, we will change match times for countries who played their matches at 18:00 and 19:00 CET. They will be moved back by 1 hour (to 19:00 and 20:00). Same goes for their national team match times.
Have a nice day!
Author:

vlady
-
Translator:

vlady
Share on Facebook
Share on Twitter
Share on MySpace