News from soccer and handball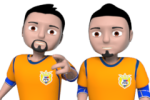 Hi friends,
we have implemented a couple of new features in soccer and handball to make things easier for you as managers. You may have already noticed them both.
In soccer match report you can now see all changes in formation, not only substitutions. If you or the opponent has moved a player to a different position, you can see it in the match report. This is marked by a black curved arrow. You can also see player swaps where players switch their respective positions. This is marked by 2 blue horizontal arrows. In regular substitutions you can see which position the new player was placed into. In case your opponent has substituted a defender for a striker, you will see that now. You can even see all this information for all the past matches so you can go back and analyze them.
We also plan to change the calcuation of ratings and team strength to reflect these changes in the lineup. Right now team strength represents strength at the beginning of the match and ratings of players represent their rating on the position where they started the match.
In handball you can now see the next tournament match listed separately at the bottom of the Next match page. This change was implemented because if you played 2 matches on the same day, you could only see the second match on this page after the first one was played. This will give you more time to prepare for your matches.
That's all for now, have a nice day!
Author:

vlady
-
Translator:

vlady
Share on Facebook
Share on Twitter
Share on MySpace