Join basketball beta for free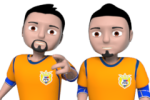 Dear friends,
as of this moment, you can join the basketball beta version for free. We have to say that the launch of beta version has gone really well so far and we have only had small bugs.
We are still working on the engine. There are some unfinished things there, but hopefully all will be done next week, so that we can launch the full version on June 23 as planned.
On Monday, you will see a message in your basketball team asking you to pick your preferred starting position in the full version. You will have 3 options to choose from. But the best way to ensure that you start where you want, will be the auction for league places. We will publish more details about the auction on Monday.
For now, enjoy the game and please report any bugs that you may find in the designated threads in our forum.
Have a nice weekend!
Author:

vlady
-
Translator:

vlady
Share on Facebook
Share on Twitter
Share on MySpace